Meet the Customer Care Team
Customer Care Team

Shirley Price-Jones
Rebecca Moore
Sheila Evans
Elin Davies
Kay Evenden
Katherine Price
Catrin Phillips
Sophie Price-Jones
Suzie Jones
Customer Care Team
To run our practice we have a dedicated and talented team.

Click on the names of our Customer Care Team and read little bit about them.
Shirley Price-Jones, LLB (Hons) Business Law - Practice Manager
Shirley joined the Tysul Vets in November 2012 as Practice Manager to join her husband Robert with the day to day running of the practice in preparation for the retirement of Partner Peter Cule the following April. Shirley's background was in recruitment, personnel and in teaching and training in adult and community education. Although she had not previously worked in the veterinary or agricultural arena she would say that over 20 years as a vets wife and dealing with out of hours emergency phone calls for many years - she has had a lot of preparation for the job.
The role of practice manager is varied and no two days are the same. With a staff of 25 plus there is never a dull moment.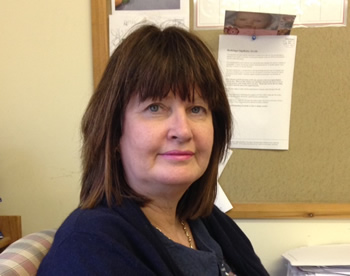 When not a Tysul Vets, Shirley enjoys researching local and family history, cooking, walking her dog Zac and spending time with her children, Alex and Sophie.
Rebecca Moore - Pa to Directors
Rebecca started with us on the 1st December 2017 and joined the reception team. Rebecca is bilingual and is happy to speak either Welsh or English with clients. Rebecca previously studied a degree in International Wildlife Biology and was keen to continue a career in something animal related. Studying an NVQ Level 3 in business and administration during her first few years Rebecca completed her course rapidly. After some time out for maternity leave.
Rebecca returned from leave and progressed to the post of Personal assistant to the Directors and thoroughly enjoys a mixed role of administration work, reception and customer service.
Out of work Rebecca enjoys spending time with her 3 children, partner and her dog Layla. They enjoy spending time outdoors and indoors making adventures for themselves.
Sheila Evans - Practice Secretary
My name is Sheila Evans and I am the Practice Secretary. I have worked at the practice for 35 years. I started as an accounts clerk and then moved on to secretary. I come from a farming background.
Fy enw iw Sheila Evans a iw ysgrifennyddes Milfeddyg Tysul. Rwyf wedi gweithio yn y milfeddygfa ers 35 o flynyddoedd. Rwyf yn ferch fferm.
Elin Davies - Head Receptionist
My name is Elin and I am the Head Receptionist at the Practice. My daily role is to make appointments for both large and small animal clients.
I joined the practice in 1996, and having worked here for 18 years I must admit that to start off I was worried because I am not from a farming background, but I have managed and enjoy my job.
I have been brought up in Drefach Felindre, where I now live with my husband Paul and my grown up daughter Lowri. When not working, I like to eat out, bake, read watch the television and potter around in my small garden.
I love all the small animals that come in to the surgery but my favourites are Guinea Pigs.
Rydw i'n siarad Cymraeg. I am a Welsh speaker.
Kay Evenden - Accounts Secretary
My name is Kay Evenden and I joined Tysul Vets in 2007. My role at the practice is to enter all the TB tests carried out by the Vets and I also do all the invoices for our clients.
Out of work my interests are, in no particular order, running half marathons, cycling, swimming, going to the gym, eating out, going to rugby matches and reading. I also enjoy watching any type of sport on the TV but mainly rugby and football.
Rydw i'n siarad Cymraeg. I am a Welsh speaker.
Katherine Price - Farm Reception and TB Assistant
Katherine started at Tysul Vets in April 2019 as a Large Animal Receptionist. Katherine is a bilingual, local farmers daughter who spends weeks every year helping out at home on the farm during the lambing period. Katherine has a young son who is also a keen farmer. They love spending time exploring on the family farm in all kinds of weather! Come rain or shine, Katherine and little Ollie will be outside enjoying the fresh air.
Sophie Price-Jones, Small Animal Receptionist
Sophie joined Tysul vets as Saturday 'girl' and work experience student whilst studying at Swansea University. Sophie has been around Tysul Vets since a toddler going on farm calls with her dad 'Rob the Vet' and more recently joining the team in admin and reception. A lover of dogs and cats, Sophie loves to meet all the pets that come and visit the practice. At home she helps look after three cats and her dog Zoom, a Hungarian Vizsla, which I am sure she will tell you all about if you happen to be in reception. Sophie is a second language Welsh speaker and in her spare time is finishing her History degree through the Open University.